K9 First Aid Kit (Military Grade)
The K9 First Aid Field Trauma Kit provided by PPA is designed for use by Law Enforcement, Military, Fire, and Search & Rescue K9 Units. This kit contains specific supplies needed to treat the dog for injuries ranging from gunshot and knife wounds to snake bites.

The K9 Tactical First Aid Field Trauma Kit is the most complete and versatile professional K9 first aid kit available and is military grade. The kit's versatility makes it the perfect choice for all working K9s.

K9 teams face substantial risks on a daily basis. These dogs have been punched, stabbed, poisoned and shot by fleeing suspects. Those who work in Search & Rescue, Tracking, Apprehension and Explosive Detection teams have an increased risk of injury due to extreme environmental conditions, poisoning, or explosion.

The K9 Tactical Field Kit is designed to enable handlers to provide lifesaving treatment to injured canines at the point of injury or when veterinary care is not immediately available.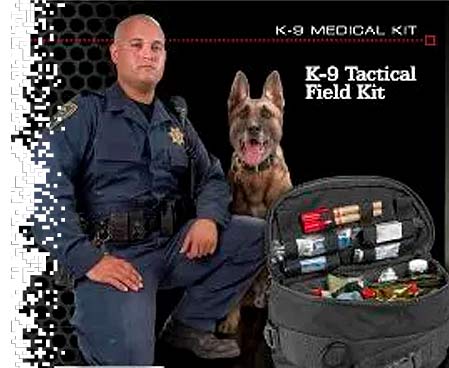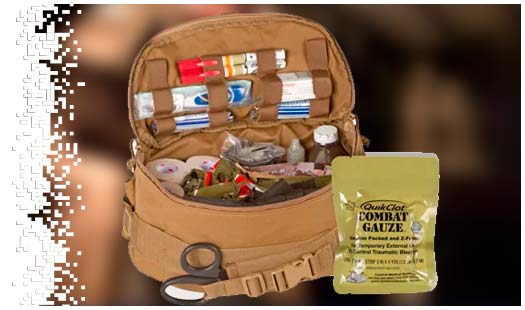 This kit and its contents are compact, durable and allow reliable and versatile interventions wherever the need arises. The kit provides the necessary tools to address the major traumatic injuries common to K9's operating in the military and law enforcement environment as well as common K9 emergencies such as bloat, heat injury, and toxic ingestion.

Offering a large central compartment and multiple attachment points, this kit maximizes storage space while maintaining a compact and light-weight profile at only 5lbs fully packed.

The ONLY K9 First Aid kit that is sand & water-resistant. Made with self-repairing zippers and silent 550 cord pulls. The MOLLE style webbing and Infrared Signature Reduction make this kit the superior solution whether on daily patrol, tactical missions, explosives details, covert operations, or extended search and tracking purposes.
The Tactical kit bag is constructed of rugged 500D Cordura. The kit can be slung over the shoulder in bandolier fashion, hand-carried, or worn around the waist as a belly-bag. The trauma kit can also be attached to the K9 ballistic vests and K9 cooling vests provided by PPA. The "open and grab" design of this kit enables handlers to quickly see the entire contents of the bag when opened. The bag has sections and elastic straps to keep everything in its place. This eliminates the need to dig around looking for items as with other kits that are too deep or are of duffle bag/handle bag style.
Every second is vital when dealing with critical injuries.

k9-2While emergency care is readily available to the police officer, the same cannot be said of the their canine partner. Training officers to administer first aid to their injured canine partner is only part of the solution, equipping them with a K9 first aid field trauma kit for use in the field can make a huge difference. In addition, everything in the K9 First Aid Field Trauma Kit can also be used on the human handler providing an additional layer of emergency trauma care available on-scene.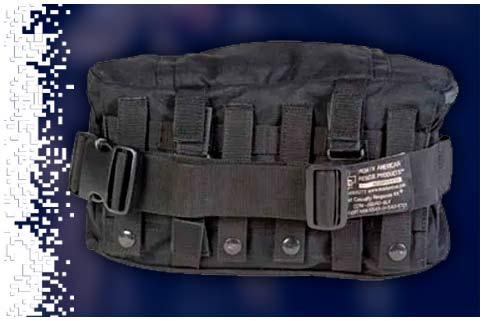 Equipping their human partner for emergency trauma care could save the life of the K9. Distribution of these kits will give the officer the means to do just that. The kit also contains a quick-reference field guide and video training tutorials on how to use the contents. In addition, Project Paws Alive works with every receiving agency to ensure they are properly trained by a veterinarian on how to use each item contained in the kit.

Over 92% of agencies nationwide do not have the budget to obtain this equipment. Some agencies are prohibited from purchasing equipment that is "not for human use".

Many agencies leave the burden of purchasing K9 equipment with the handler.

These K9 First Aid Field Trauma kits are the best available and are $435.99 per unit. However, this cost is nothing compared to the loss of a K9's life.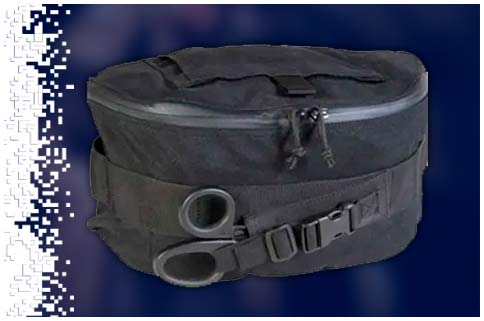 Project Paws Alive's mission is to provide all working K9 units with a First Aid Field Trauma kit. Please help us reach this goal and donate today! Kit contents are subject to change without notice. Kits are ordered specifically for each K9 and include items not listed below. Additional items included are determined by the K9's specialities, certifications, region, and/or environment. All kits are pre-assembled and purchased through a supplier. Project Paws Alive does not make these kits.

The K9 First Aid Field Trauma kit typically contains multiples of the below:

• Tactical kit bag constructed of rouged 500D CORDURA Solution-Dyed Nylon
• S-Rolled Gauze
• ETD™ 4 in. Emergency Trauma Dressing
• ETD™ Abdominal Emergency Trauma Dressing
• Combat Gauze Hemostatic Dressing
• HyFin® Vent Chest Seal Twin Pack
• Injectable diphenhydramine* (Benadryl)
• Veterinary Venom Pen
• Veterinary Anaphylaxis Pen
• Needleless Saline Lock Kit
• 090228-F-9963E-072ARS® Needle Decompression Kit (14 G x 3.25 in.)
• Petrolatum Gauze (3 in. x 18 in.)
• SAM® Splint II (36 in. x 4.25 in.)
• Trauma Shears (7.25 in.)
• Eye Wash Solution
• Splinter Forceps
• Bear Claw™ Nitrile Trauma Gloves (5 pr.)
• Hydrogen Peroxide (8 oz)
• Digital Veterinary Thermometer
• K9 Hydration Pack (collapsible, insulated)
• Tactical Black Muzzle
• Veterinary Elastic Adhesive Tape
• Black Flexible, Self-Adherent Bandaging Tape
• Veterinary Tissue Adhesive
• QuikClot Combat Gauze Pro Z-fold
*Other medical items (not listed) as deemed necessary by the type of K9 (SAR, Narcotics, Explosives, etc.). NARCAN K9 Kit (*separate add-on)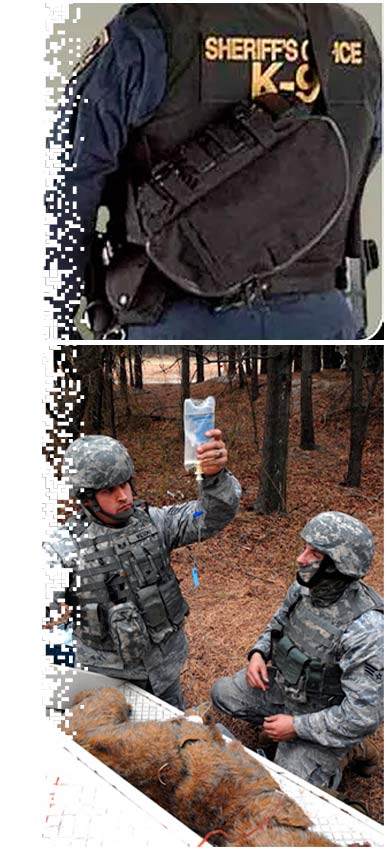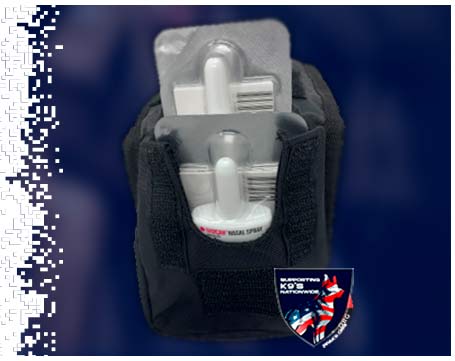 K9 NARCAN KIT
K9 NARCAN kits are now available. The kits are made specifically for working K9 units. K9s are just the latest victims in a growing opioid epidemic that has spread across the United States in recent years. K9 units searching for illicit drugs are often exposed to lethal amounts of opioids, including Fentanyl. The frightening strength of some of these drugs, particularly synthetic opioids like Fentanyl, present a new danger to K9s. Reports indicate that more K9s are suffering opioid overdoses in the line of duty by accidentally ingesting substances during detection.

NARCAN is a drug designed to immediately reverse the effects of opioids like Heroin, Fentanyl and Carfentanil by blocking the body's opiate receptors. NARCAN blocks the effects of opioids and reverses overdoses with few side effects. It has long been used by doctors and ambulance crews. A NARCAN dose can successfully stabilize a K9 at the scene, who can then be transported to an animal hospital for further treatment and observation.
---
How lethal is Fentanyl? A tiny amount of Fentanyl smaller than the size of a grain of rice can kill a K9 or human.

The K9 NARCAN kit we offer is not a standard one dose application. Working with K9 handlers and veterinarians who care for working K9 units, our complete K9 NARCAN kit includes two separate nasal spray doses and a NARCAN carry pouch which can be worn on the K9 Handlers duty belt or vest to ensure constant and immediate access when needed. Two doses are included because field reports have shown that often times more than one dose is required to be administered on-scene.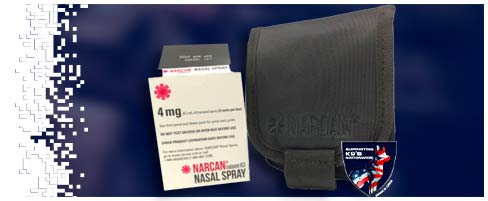 ---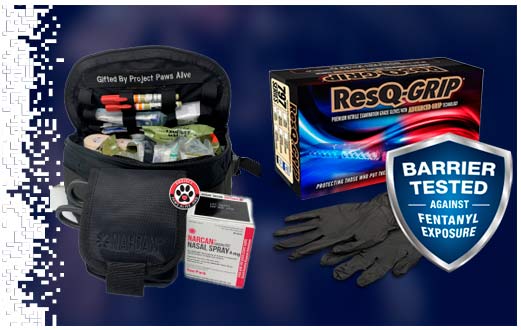 The nasal spray NARCAN version is included because it allows quicker deployment than the cheaper syringe version which requires multiple pieces of equipment to be assembled together prior to use. The syringe version requires a MAD Nasal Intranasal Mucosal Atomization Device to be attached to the syringe just prior to use which can mean losing valuable time and potentially loosing a part which would render the syringe useless. Conversely, the NARCAN nasal spray allows immediate deployment right out of the package with no additional equipment required.

Our K9 Narcan kits are the only kits that also include multiple pairs of ResQ-GRIP Advanced Nitrile (not latex), barrier tested and certified fentanyl and heroin resistant gloves. These gloves are designed specifically for Law Enforcement, EMS, and the Military. These premium nitrile professional gloves with advanced grip are the toughest barrier protection in the industry. No powdery mess and no latex reactions. These gloves are made specifically to ensure that first responders who use them on duty get home safe.
---
Does NARCAN work on K9s?
Yes! In a recent incident confirmed by Newsweek, K9 Abbie a drug-detecting Police dog in Oregon was saved by a donated NARCAN kit after accidentally being exposed to heroin during a routine search for smuggled contraband in the Clackamas County Jail.

The K9 NARCAN kit is $160. However this cost is nothing compared to the loss of a K9's life.

Our mission is to provide all working K9 units with a K9 NARCAN kit.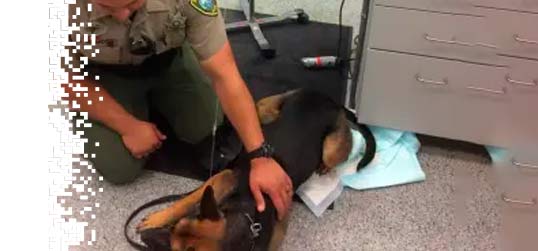 Please help us reach this goal and donate today!
To fund a K9 NARCAN KIT please use the donate button below. Donations are tax-deductible.