Honor and Memorial Donations
Give a donation in lieu of a gift.
Make a tax-deductible donation to Project Paws Alive in honor of a friend, pet, or loved one.
Donations provide working K9s with vital protective equipment they cannot otherwise afford.
Your recipient will be notified by a beautiful card sent via email or postal mail.
Perfect for the special hard-to-buy-for recipient. A great way to remember a cherished pet. Ideal as a last-minute gift.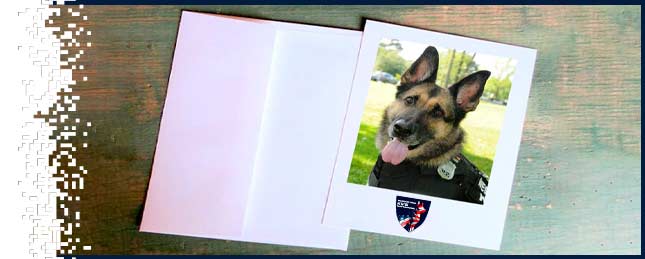 For any occasion:
• In honor of someone special.
• In memory of a loved one.
• Special occasion or celebration.
• Achievement or recognition.
• Holiday, Anniversary, or Birthday gift.

You determine the amount and we will send you an honor gift card to give to your honoree, or we'll send it to them for you.
The card lets your honoree know that a donation has been made in their honor.
If you would like your card sent directly to your honoree by mail or email, please include this information in the notes section of your order along with the recipient's mailing address or email.
To send a Donation Honor Card
Please select an amount below, add to cart and proceed to check out. Don't forget to provide the name and address of the recipient in the comment section at checkout. Please note that the actual honor card image may differ from what is shown as various K9s are often displayed on honor cards.
Product successfully added to your cart.
View Cart
Successfully Added to your Shopping Cart

Checks may also be mailed to Project Paws Alive Inc.
2095 Hwy 211 NW Suite 2-F.
Box 273 Braselton, GA 30517

** For all check orders please include a note indicating the donation is for an Honor Card and include your honoree's name and mailing address so we can send the card. **

Any card donations received without honoree information will have the card mailed to the donor.

Please contact us in advance with any questions. Thank you.