Our Mission
To provide K9 bullet and stab protective vests and other vital K9 protective equipment to underfunded Law Enforcement, Fire, Search & Rescue, and Military K9 units nationwide who cannot otherwise afford it. Our History
Project Paws Alive was established in 2012 when our co-founders combined their federal and state law enforcement backgrounds to address a nationwide working K9 protection gap. Influenced by their time working with the FBI's FTTTF (Foreign Terrorist Tracking Task Force) and State of Georgia Law Enforcement Agencies, they combined their love of dogs with first hand experience to create Project Paws Alive, a nationwide non-profit that provides protective equipment to Law Enforcement, Fire, Search & Rescue, and Military K9 Units throughout the United States.

Prompted by several law enforcement K9 deaths in one year that could have been prevented if the K9s had been wearing protective ballistic vests on duty, they conducted extensive research and found that almost all first responders do not have the funds or budget approvals to afford such expensive equipment. In many instances, agencies are prohibited from spending budget funds to purchase equipment that is "not for use by humans."

Due to budget cuts and other economic issues, 92% of all K9 units are run solely on donations. In almost all cases, the handlers must personally pay for their K9 partner's needs which include medical, food, grooming, training, yearly certifications, and K9 safety equipment such as K9 protective vests, K9 first aid kits, K9 cooling vests, K9 vehicle heat alarms, etc. Most people assume that because the K9 is an officer of the agency then the K9 must therefore get all the equipment it needs to be protected, and that the agency pays for all its expenses. This assumption is entirely false.

K9 Units are typically classified as "non-essential," "specialty," or "equipment" units, and therefore, do not often receive a budget or have the ability to purchase these costly protective items.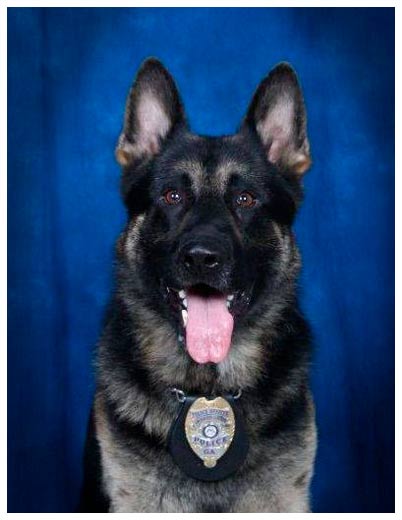 Many agencies cannot accept direct donations from the public, businesses, or even private resources.

We quickly saw the gaps these K9 units face and found that there is no other nationwide non-profit organization in existence that is working to provide the range of protective K9 equipment items or the superior level of quality protective equipment items these K9s need across the country.

We believe all Law Enforcement, Fire, Search & Rescue, and Military K9s should be afforded the same lifesaving protection as their human partners. These highly trained K9s dutifully protect and serve us every day, and we believe they should be protected in return.
Our Purpose
Our sole purpose is to raise funds to provide agencies in need with protective K9 equipment. Current equipment includes but is not limited to; K9 ballistic protective vests (stab & bulletproof combo vests), K9 first aid field trauma kits, K9 cooling vests, K9 Narcan kits, K9 vehicle heat alarm systems with "No K9 Left Behind" technology, K9 working dog protective boots, and specialized Pet Oxygen Recovery Mask kits.

Because these items are highly specialized, state-of-the-art, and "best available" professional equipment, these items are quite costly. Many of them are "Military Grade" to ensure the best possible quality and are proven to last for years. We believe in quality over quantity when lives are at stake. Therefore, all equipment provided by Project Paws Alive is professionally made by licensed companies which exceed all state and federal regulations and is purchased directly from the manufacturer. We do not make or assemble any items such as "home-made" K9 first aid kits. Project Paws Alive will only donate professional grade equipment that has been tested and certified by the National Institute of Justice (NIJ) and the National Institute for Public Safety (NIPS).
---
Project Paws Alive is the only non-profit providing K9 equipment to first responder agencies and the military that has an active Equipment Advisory Board composed of current and active-duty Law Enforcement, Fire, Search & Rescue, and Military K9 handlers, as well as public safety directors and veterinarians.
Our advisory board is constantly evaluating the equipment, quality, and tactical level out in the field to ensure that we are providing the best available equipment we can purchase. The best feedback comes directly from those using the equipment on a daily basis throughout the country. Because our Advisory Board will never have a manufacturer representative on it, we maintain a truly unbiased approach to the equipment provided.
Our focus is on quality not quantity. We do not provide cheaper equipment items to boost our numbers. We provide K9 units with the best available protective equipment regardless of cost. We work closely with each K9 unit to ensure they are getting the equipment their K9s need and will actually use. Not all K9s have the same tactical purpose, nor are they all the same size; therefore they often need different and/or custom equipment. When lives are at stake, protection levels matter, and that means paying for better quality equipment.
Project Paws Alive received the Platinum Award by GuideStar, the leader in nonprofit reporting and analysis who also serves to verify that donated funds go where the donor intended. Project Paws Alive's Platinum Award is GuideStar's highest level of recognition achieved through auditing, reporting, measured progress, and confirmed results. The Platinum Award is only awarded to 1% of all nonprofits. We're committed to ensuring our donors, sponsors, and partners can support us with confidence. The Bottomline
Each custom fit protective bullet & stab-proof vest costs on average $1,400, depending on the size of the K9 and any required agency equipment requirements. Specialized K9 SWAT/Military vests start at $3,800. K9 field trauma kits are $350, K9 cooling vests are $200-300, depending on K9 size and material selection. K9 vehicle heat alarms with full options including the "No K9 Left Behind" technology costs between $4,000-$5,000, depending on the make, model, and year of the vehicle.

These costs are not achievable by the limited budgets of many agencies or those who run on donations alone. This is why we need YOUR support to help provide this vital equipment.

As a 501(c)(3) nonprofit organization, your donation is 100% tax-deductible. There are over 400 agencies nationwide currently requesting this equipment and the wait list grows every day.

Please consider making a donation to Project Paws Alive. Your donation is an investment in your community by helping to protect the K9s that protect you.