K9 Heat Alarm Systems (Hot n' Pop)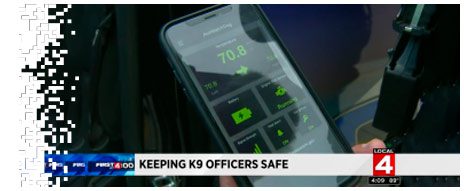 Every year K9s die from vehicular heat stroke. Officers leave the vehicle AC running when they are not able to take their K9 with them, or when the K9 needs a break. But what happens if the AC starts to push out hot air? What happens if the engine stalls and shuts off? The horrific reality is that the vehicle will overheat within minutes and the K9 will be trapped inside with no way to get out. Tragically, K9s die from these heat related accidents every year.

Due to budget cuts everywhere, working K9s are going without this life-saving equipment.
What if you could prevent this and help save a K9s life or prevent K9 heat stroke? YOU CAN!

Our nationwide K9 Heat Alarm Fund provides law enforcement, fire, and military K9 Units with K9 Heat Alarm systems for agencies that cannot afford to purchase the equipment for their K9 vehicles.

Depending on the make, model, and year of the vehicle each top-line unit with full options could range $3,000 – $6,000.

The K9 Heat Alarm units are the best available professional units on the market which monitor and alert high heat vehicle cabin temperatures.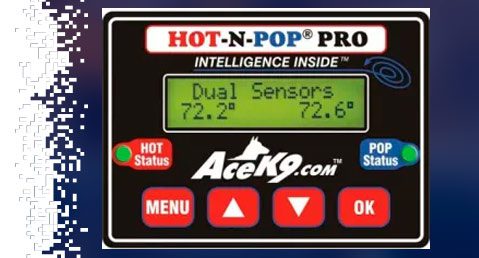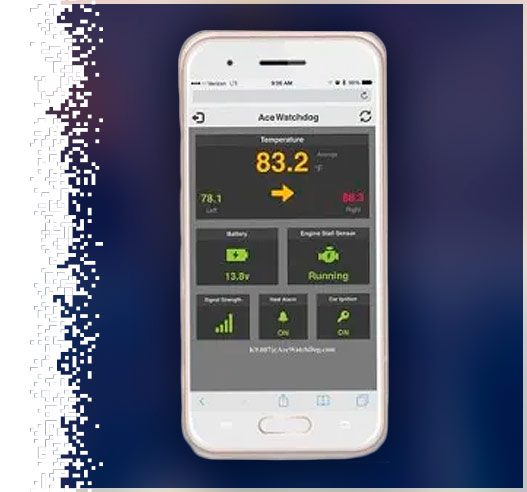 Our donated systems also include the Ace WatchDog system – a smart phone application that provides K9 Units with peace of mind that their K9 is safe and provides warning notifications BEFORE the danger and alarm happens. The WatchDog app provides a one glance system status and gives the Hot & Pop Pro systems a voice. This add-on provides unlimited monitoring range through the internet to anywhere in the world and works with handlers existing smart phones to provide real-time status, warnings, and alerts. Another safety feature is that multiple personnel can monitor and receive alerts on multiple vehicles. This ensures that should the handler be hurt or unresponsive for any reason, other personnel will receive the alerts and be able to assist when needed. Texts and automated voice calls are delivered to cellular and land lines. Backed by multiple live cloud servers, the WatchDog system provides the ultimate state of the art technology in vehicle system monitoring and alerting.

It works: we have received several reported cases of K9s being saved from heat stroke due to the WatchDog system alerting handlers in enough time to get the K9 out.

This system also makes automatic corrective actions to the temperature; it audibly and visually alerts everyone nearby. As a last measure, the system will open the vehicle door allowing the K9 to exit. From beginning to end the officer is alerted via horns, sirens, lights, digital transmitters and smart phones worn on their person. The unit also includes a cold temp alert should the vehicle temp drop below a set degree for year-round K9 protection.
--- NO K9 LEFT BEHIND:
The "No K9 Left Behind" add-on option is exclusive to AceK9 and provides an end of shift system monitor which will alert and continue to alert until the door to the K9 has been fully opened to release the K9 and the officer has acknowledged the release of the K9. Thus providing yet another layer of safety to protect against distractions, multiple shift sleep deprivation, and other instances where a K9 may be accidentally left in a vehicle at the end of shift.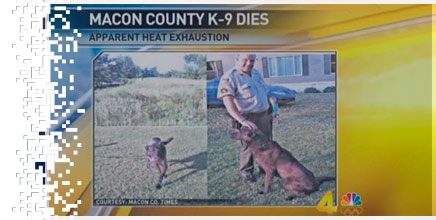 ---
To make a tax-deductible donation to the K9 Heat Alarm Fund please use the PayPal button below.

Checks may also be mailed to Project Paws Alive Inc., 2095 Hwy 211 NW Suite 2-F, Box 273 Braselton, GA 30517. Please include "Heat Alarm" in the memo line.
Project Paws Alive has partnered with AceK9 to offer their top line Hot n' Pop Pro Max system. This includes the Hot n'Pop Pro unit, WatchDog module, No K9 Left Behind module, fan kit with heavy duty fan guards, engine stall monitoring module, as well as detection features for carbon, smoke and fire.

This is the most complete and robust K9 vehicle monitoring system available.

(Note: Beware of cheaper units – they are cheap because they do not have the same technology or functions. Most units under $2000 do little more than send a text message notifying of an issue in progress, they are not proactive alerts and they do not take any automated corrective actions to save the K9.)
Detail specs: The AceK9 Hot n' Pop Pro unit monitors vital components including temperature sensors and vehicle battery voltage. The information is shown on a 32-character backlit alphanumeric display. If an alarm condition is detected, the unit will activate a S.O.S. Horn Honk signal, siren and light-bar activation and dual window drop. The K9 Door Popper® releases your K9 partner from the vehicle to be by your side in an emergency situation. A special Door Pop Stopper™ feature disables the K9 Door Popper® when the vehicle is in gear. The systems come complete with Door Popper Remote, antenna, wiring, and assorted hardware. Software based features allow for future upgrades. Detail K9 Heat Alarm Components: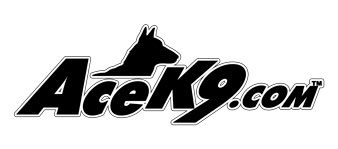 • S.O.S Horn Honk™ Feature- "makes the vehicle horn sound like no other".
• S.P.S Safety Pop Stopper™ Feature- This extremely important feature protects your canine by preventing door activation when the vehicle is in motion.
• Exclusive Fast Pop™ Feature- Door pop/unlock timing sequence "The fastest door pop/unlock sequence in the industry!"
• Door Pop/Unlock sequence is triggered at the press of One Button, no need to press one button to unlock the door and another to unlatch the door as with other door opening units.
• Siren Activation
• Light Bar Activation
• Dual Window Drop Module
• Dual Remote Temperature Sensors with extended 15′ cables – Place sensors where you want!
• The most accurate K9 Temperature Sensors on the market with accuracy better than 0.5° F Dual real-time resolution 0.1° F
• Temperature alarm threshold is easy to adjust.
• Dual Purpose Alert, Monitors Hot & Cold with Exclusive Ak9 Cold Alert™
• Full alphanumeric LCD display- Comprehensive status reports with easy setup.
• Modular design allows options to be added to fit your specifications or as budget allows.
• Non-volatile memory for temperature alarm setting- Temperature alarm setting is permanent until user reprograms.
• Monitors and displays vehicle battery voltage- sets off alarm before battery failure.
• Complete self-diagnostics of both control head and temperature sensors – Warns if problem with one temperature sensor and sets off alarm if both sensors fail!
• Long range digital transmitter with holster – easy to carry, wear, or conceal.
• External antenna kit.
• Gas spring fully extends and holds door open for safe canine release.

*Heat Alarm units and optional components selected and used by law enforcement K9 Units may change from what is listed above at the discretion of each agency based on vehicle type and equipment needed.

Does it really work? YES! Watch these videos of the system from CBS News, Animal Planet, and First Responder Agencies.
---