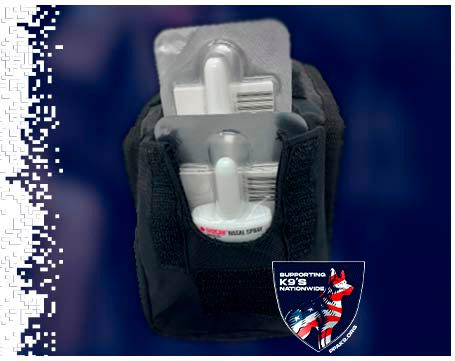 K9 NARCAN kits are now available. The kits are made specifically for working K9 units. K9s are just the latest victims in a growing opioid epidemic that has spread across the United States in recent years. K9 units searching for illicit drugs are often exposed to lethal amounts of opioids, including Fentanyl. The frightening strength of some of these drugs, particularly synthetic opioids like Fentanyl, present a new danger to K9s. Reports indicate that more K9s are suffering opioid overdoses in the line of duty by accidentally ingesting substances during detection.

NARCAN is a drug designed to immediately reverse the effects of opioids like Heroin, Fentanyl and Carfentanil by blocking the body's opiate receptors. NARCAN blocks the effects of opioids and reverses overdoses with few side effects. It has long been used by doctors and ambulance crews. A NARCAN dose can successfully stabilize a K9 at the scene, who can then be transported to an animal hospital for further treatment and observation.
How lethal is Fentanyl? A tiny amount of Fentanyl smaller than the size of a grain of rice can kill a K9 or human.

The K9 NARCAN kit we offer is not a standard one dose application. Working with K9 handlers and veterinarians who care for working K9 units, our complete K9 NARCAN kit includes two separate nasal spray doses and a NARCAN carry pouch which can be worn on the K9 Handlers duty belt or vest to ensure constant and immediate access when needed. Two doses are included because field reports have shown that often times more than one dose is required to be administered on-scene.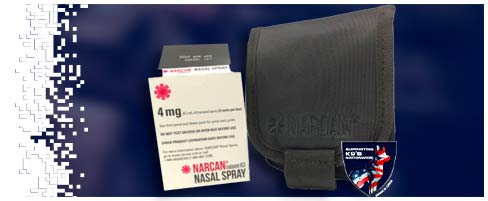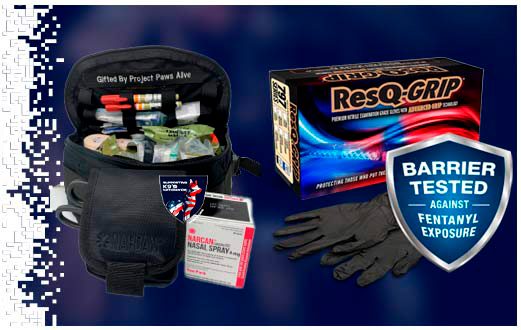 The nasal spray NARCAN version is included because it allows quicker deployment than the cheaper syringe version which requires multiple pieces of equipment to be assembled together prior to use. The syringe version requires a MAD Nasal Intranasal Mucosal Atomization Device to be attached to the syringe just prior to use which can mean losing valuable time and potentially loosing a part which would render the syringe useless. Conversely, the NARCAN nasal spray allows immediate deployment right out of the package with no additional equipment required.

The specialized carry pouches are designed for multi use by the handlers to offer maximum options for carrying. The exterior is made of rugged nylon that sheds moisture. The interior is poly insulation which provides protection from extreme temperature. The pouch protects the NARCAN from the weather and elements to ensure the NARCAN is at full strength. The K9 NARCAN kit can be used on both the K9 and their human handler if needed.

Our K9 Narcan kits are the only kits that also include multiple pairs of ResQ-GRIP Advanced Nitrile (not latex), barrier tested and certified fentanyl and heroin resistant gloves. These gloves are designed specifically for Law Enforcement, EMS, and the Military. These premium nitrile professional gloves with advanced grip are the toughest barrier protection in the industry. No powdery mess and no latex reactions. These gloves are made specifically to ensure that first responders who use them on duty get home safe.
Does NARCAN work on K9s?
Yes! In a recent incident confirmed by Newsweek, K9 Abbie a drug-detecting Police dog in Oregon was saved by a donated NARCAN kit after accidentally being exposed to heroin during a routine search for smuggled contraband in the Clackamas County Jail.

The K9 NARCAN kit is $160. However this cost is nothing compared to the loss of a K9's life.

Our mission is to provide all working K9 units with a K9 NARCAN kit.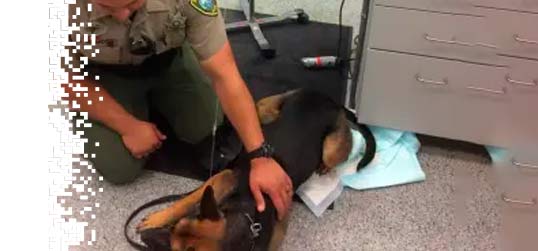 Please help us reach this goal and donate today!
To fund a K9 NARCAN KIT please use the donate button below. Donations are tax-deductible.