How to support police dogs thru "Protect Paws Alive" 
Police dogs, also known as K-9 officers, play a crucial role in law enforcement. They are trained to track down criminals, detect explosives and drugs, and provide protection to their human handlers. Despite the important work they do, these dogs face many risks and challenges in the line of duty, including injuries, illness, and even death. Protect Paws Alive is an organization that works to support police dogs by providing them with the necessary equipment and medical care.  
Project Paws Alive was established in 2012 when a group of co-founders combined their federal and state law enforcement backgrounds to address a nationwide working K9 protection gap. T

he need for such initiative arose after the death of several law enforcement K9 deaths in one year, which according to the organization could have been prevented if the K9s had been wearing protective ballistic vests on duty.  
The organization said that they conducted extensive research and found that almost all first responders do not have the funds or budget approvals to afford such expensive equipment. It was further pointed out that in many instances agencies are prohibited from spending budget funds to purchase equipment that is "not for use by humans". That is where PPA comes in, influenced by their time working with the FBI's FTTTF (Foreign Terrorist Tracking Task Force) and State of Georgia Law Enforcement Agencies. PPA combined their love for dogs with firsthand experience to create Project Paws Alive; a nationwide non-profit that provides protective equipment to Law Enforcement, Fire, Search & Rescue, and Military K9 Units throughout the United States. Donations affords PPA to provide much need services such as medical, food, grooming, training, yearly certifications, and K9 safety equipment such as K9 protective vests, K9 First Aid kits, K9 cooling vests, K9 vehicle heat alarms, etc.  However, due to budget cuts and other economic issues 92% of all K9 units are run solely on donations. 
Here are some ways you can help support police dogs thru "Protect Paws Alive"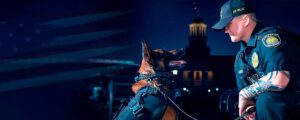 Donate Funds  
One of the easiest ways to support police dogs is to donate funds to organizations such as Protect Paws Alive. The funds donated are used to purchase equipment such as bulletproof vests, first aid kits, and other essential items that help keep police dogs safe. You can also donate to help cover the cost of medical care for injured police dogs. 
Donate Equipment  
Protect Paws Alive accepts donations of various types of equipment to help keep police dogs safe. Some examples of equipment that they accept include K-9 first aid kits, cooling vests, and boots to protect the dogs' paws from hot pavement or sharp objects. 
Spread the Word  
Another way to support police dogs is to spread the word about their work and the importance of keeping them safe. You can do this by sharing articles and videos about K-9 officers on social media, talking to friends and family about the work they do, and even writing to your local politicians to ask for more support for police dogs. 
Attend Fundraising Events  
Protect Paws Alive and other organizations often hold fundraising events to raise money for equipment and medical care for police dogs. Attending these events is a great way to show your support and help raise funds for a worthy cause. You can also volunteer at these events or donate items for silent auctions or raffles. 
Volunteer Your Time  
If you have some extra time, you can also volunteer your time to help support police dogs. This could involve helping at fundraising events, providing transportation for police dogs to and from the vet, or even fostering retired police dogs. 
Police dogs play a vital role in law enforcement, and it's important to support them by providing them with the necessary equipment and medical care. Protect Paws Alive is an organization that works to support police dogs, and there are many ways you can help. Whether it's donating funds or equipment, spreading the word, attending fundraising events, or volunteering your time, every little bit helps to keep these brave animals safe.