Law enforcement agencies across the nation face numerous challenges in ensuring public safety. One invaluable asset that has repeatedly proven to be a vital investment is the inclusion of highly trained K9 dogs in their ranks. These remarkable canines possess exceptional skills that aid officers in crime prevention, search and rescue operations, and narcotics detection. However, providing essential equipment to protect and support these courageous K9 officers can be costly. That's where non-profit organizations like Project Paws Alive step in, relying solely on donations and sponsors to provide lifesaving equipment to K9 units nationwide. 
The Vitality of Donating
Protecting Our Protectors: K9 dogs are an invaluable asset to law enforcement agencies. Donating to organizations like Project Paws Alive ensures these loyal and brave companions are equipped with bullet and stab protective vests. These vests act as a crucial line of defense, reducing the risk of injury and allowing the dogs to perform their duties safely and confidently. 
Enhancing Efficiency and Effectiveness: Properly equipped K9 units are more efficient and effective in carrying out their tasks. First aid kits provided by Project Paws Alive enable immediate medical attention for the dogs in case of injuries, ensuring their health and well-being. Vehicle heat alarms prevent tragic incidents in hot weather by alerting officers of dangerous temperature levels in their vehicles. Cooling vests help regulate the body temperature of the K9 officers during demanding operations. 
Strengthening Partnerships: The bond between a K9 dog and its handler is incredibly strong. By investing in K9 dogs, we foster and strengthen the partnership between human officers and their canine counterparts. This collaboration leads to improved communication, trust, and ultimately better law enforcement outcomes. 
Project Paws Alive: Safeguarding Our Furry Partners
Project Paws Alive is a remarkable nationwide non-profit organization dedicated to supporting K9 units nationwide. Our mission is to provide lifesaving K9 equipment to law enforcement, fire departments, search and rescue teams, EMS, and the military. Through relentless efforts, we help to equip these brave K9 officers with bullet and stab protective vests, first aid kits, vehicle heat alarms, cooling vests, and pet oxygen mask kits. Every contribution, regardless of the amount, helps provide vital equipment to K9 units nationwide. 
You can make a tangible impact on the safety and effectiveness of K9 units by supporting Project Paws Alive. We rely on the generosity of individuals, businesses, and sponsors to continue with our life-saving mission. Here's how you can get involved: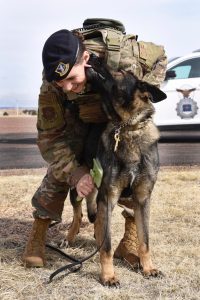 1. Donate: Visit the Project Paws Alive website and donate. 
2. Spread the Word: Share the importance of donating to K9 dogs and Project Paws Alive with your friends, family, and colleagues. Use your voice to raise awareness about this worthy cause and encourage others to contribute. 
K9 dogs are indispensable assets to law enforcement agencies, assisting in various critical tasks such as search and rescue operations, narcotics detection, and apprehending suspects. By supporting Keep K9s Safe through donations, we ensure these dedicated and courageous canines are provided with the necessary resources to perform their duties effectively and safely. The funds donated contribute to acquiring essential equipment like bulletproof vests, first aid kits, heat alarms, cooling vests, and pet oxygen mask kits, all of which are vital for the protection, health, and well-being of these incredible K9 officers.  
Investing in the safety of K9s not only enhances their capabilities but also strengthens the overall effectiveness and success of law enforcement operations, ultimately leading to safer communities and a better quality of life for all. 
Reach out to Project Paws Alive today and join our mission to support our furry partners in law enforcement. Together, we can help those who help us. 
Phone: 770-710-1313 
Email: info@ppak9.org 
Address: ​ 2095 Hwy 211 NW Suite 2-F, Box 273 Braselton, GA 30517