Stubby.
Chips.
Cairo.
Also known as Military Working Dogs (MWDs), these are the names of some of the most famous K9s in the military. Stubby served in the first World War, and Chips was the most decorated MWD in World War II. Cairo participated in the raid on Osama Bin Laden in 2011.
The earliest known use of K9s by a military group was by Alyattes of Lydia against the Cimmerians around 600 BC. Military K9s were initially used as sentries and scouts. Military dogs have worked alongside soldiers in the United States since at least the civil war, but it wasn't until WWII that the first K9 corps was created.
"The first Air Force sentry dog school was activated at Showa Air Station, Japan, in 1952. In 1953, the second school was opened at Wiesbaden, West Germany. The Army continued to train and supply sentry dogs to Air Force units in the United States until the Sentry Dog Training Branch of the Department of Security Police Training was established at Lackland Air Force Base, Texas, in October 1958." (Source: https://www.37trw.af.mil/)
In 1966, four sentry dog teams from Andrews Air Force Base were trained as patrol dogs. By 1969, the Air Force made patrol dogs the standard military working dog. In 1971, drug and explosive detection duties were added to the dog's training.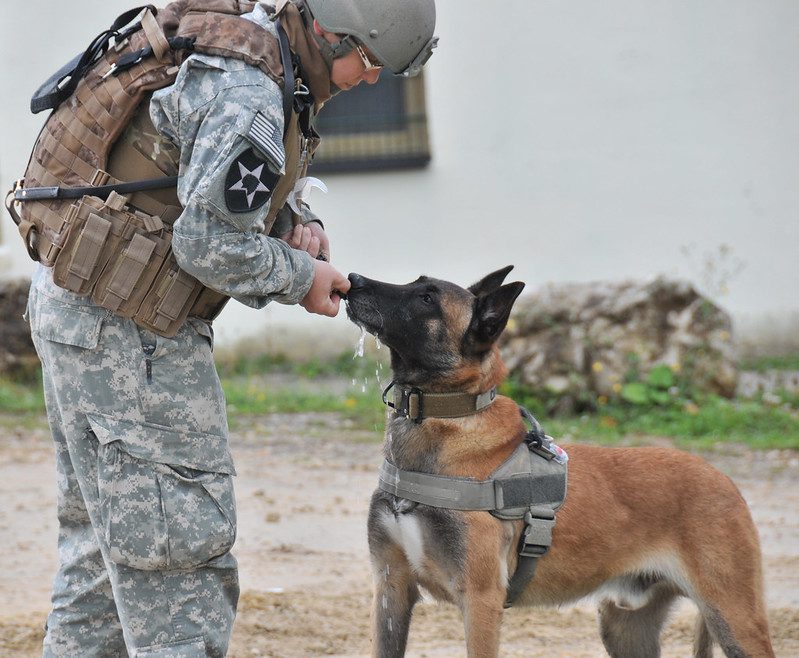 In 2005, the Department of Defensive started to train Specialized Search Dogs (SSDs) to discover Improvised Explosive Devices (IEDs). These dogs are different from standard Explosive Detector Dogs (EDDs) because they work more independently and off-leash with commands from their handler. In 2010, a new program was created where Combat Tracker Dog Teams could recognize and follow a human quarry.
Today, all United States military working dogs and their handlers are trained at the 341st Training Squadron at Lackland Air Force Base in San Antonio, Texas. There are currently over 1,600 K9s working globally in the military.
How do K9s Become Military Working Dogs
The Department of Defense breeds about 13% of the dogs in the military working dogs program – the rest are purchased from elite breeders domestically and internationally. Each K9 military candidate spends six months with a foster family and then is returned to the 341st Training Squadron, where they receive specialized intensive training. This training includes bite work, obedience, odor sensitivity, and environmental training to simulate combat zones.
After the 120-day training program, the K9s must graduate from the Military Working Dog Training Program. Successful completion of the program qualifies most dogs to be dual-purpose dogs where they either patrol and sniff out explosives or patrol and detect drugs. The dogs are then assigned to a branch of service where they will stay for the duration of their career. Only 50% of dogs who enter the Military Working Dog Training Program graduate to become military working dogs.
These K9s are a vital part of our armed services, and we are so grateful for all the military working dogs and their handlers that help keep our great country safe. We believe all Law Enforcement, Fire, Search & Rescue, and Military K9s should be afforded the same lifesaving protection as their human partners. Please help us provide life-saving equipment to these dogs by donating today.
Sources:
https://www.defense.gov/Multimedia/Experience/Four-Legged-Fighters/
https://hiarmymuseumsoc.org/2021/10/a-history-of-military-working-dogs-mwds/
https://www.akc.org/expert-advice/news/no-ordinary-dog-true-story-dog-osama-bin-laden-mission/
https://armedforcesentertainment.com/news/14-fun-facts-you-may-not-know-about-military-working-dogs/
https://www.akc.org/expert-advice/news/what-are-military-working-dogs/
https://www.37trw.af.mil/About/Fact-Sheets/Display/Article/670140/341st-training-squadron/