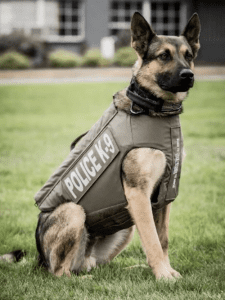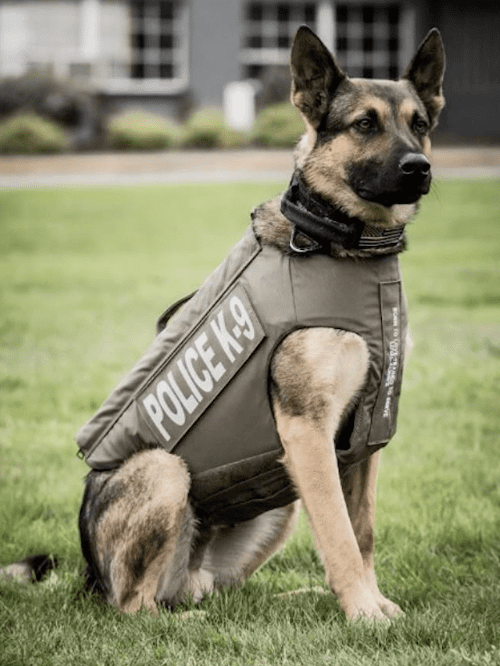 For many police officers their most commitment and reliable companion on the frontline may not even be humans or weapons, but rather their faithful four–legged friends. From Belgian Malinois, German Shepherd, Bloodhounds, Dutch Shepherds or Labrador Retrievers these are the dogs trained to put their own existence at risk every day to save the lives of their human counterparts, most of which are done with unconditional love.  
Police Dog (PD) Bacca was awarded a Medal for bravery from leading vet charity, PDSA after the courageous canine, who was brutally slashed eight times while protecting his handler from an armed assailant, he was awarded a Medal for bravery. Bacca, who is now retired from West Mercia Police department, sustained multiple injuries from the attacker, who was armed with a 10-inch knife. His handler, retired Police Constable (PC) Mike Davey, was also injured in the incident. PD Bacca was presented with his PDSA Gold Medal – the animal equivalent of the George Cross – by leading vet charity at a ceremony at Birmingham Repertory Theatre on the 26th of July 2019. 
Instituted in 2002, the PDSA Gold Medal is awarded to civilian animals for life-saving bravery and exceptional devotion to duty. The Medal is now widely recognized as the animals' George Cross. Bacca became the 29th recipient of the PDSA Gold Medal, all of whom have been dogs.   
However, this is just one of such acts of heroism that is performed every day by these train four legged assassins. But when it comes to more advanced weapons such as guns, even the best trained canine might not be so fortunate. Every year hundreds of these special law protectors are injured or killed by gunshots or stab wounds. Some police dogs have a single purpose, meaning they have one task they perform. Others are dual-purpose, meaning they are trained to perform a variety of tasks. But what exactly do police dogs do? 
From apprehension, detection, search and rescue. They can detect explosive devices, narcotics, weapons, track fugitives and locate missing persons. These tasks often put the dogs in dangerous and potentially life-threatening situations. According to one research, police K9s typically face a greater risk than their human counterparts since they are often sent in ahead to investigate dangerous situations. However, unlike human officers, these K9s are not equipped with bulletproof vests, which could increase death and injuries significantly.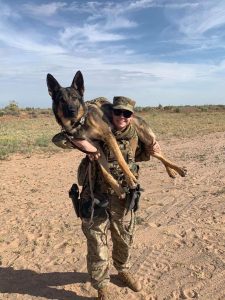 With lack of financial support from the states coupled with nationwide budget cuts to police departments, dogs have become an afterthought and often written off as colleterial damage, while Police departments are dependent on fundraisers and donations to help them purchase protective gear for their canine members. The police dogs are often required to perform potentially dangerous tasks in the line of duty. Wearing a bulletproof vest can protect the K9s from gunshots, explosives, stab wounds, and blunt force trauma such as being kicked or beaten with a heavy object. According to one survey in 2020 alone, 22 K9 officers lost their lives in the line of duty in the United States. The access to a vest can potentially make a difference in saving the life of a police k9.  
However Not all vests are made equal, and the price depends on a range of factors including the material used and the level of protection it offers which can cost between 1000-3000 dollars, not a very huge price when you think of its ancillary benefits.   
Because of the complex dangerous and unpredictable nature of their job, it is essential that K9 officers are protected for the entire duration of their shift. Factors such as lightweight, cooling technology, ease of use and custom fit are essentials factors in determining which vest is best for each canine.  
Project Paws Alive is a nationwide 501(c)(3) non-profit organization. They rely solely on donations and sponsors to provide lifesaving K9 equipment such as bullet & stab protective vests, first aid kits, vehicle heat alarms, cooling vests, and pet oxygen mask kits to Law Enforcement, Fire, Search & Rescue, EMS, and Military nationwide. Project Paws Alive was established in 2012 when its co-founders combined their federal and state law enforcement backgrounds to address a nationwide shortage of working K9 protection vests. Influenced by their time working with the FBI's FTTTF (Foreign Terrorist Tracking Task Force) and State of Georgia Law Enforcement Agencies, they combined their love of dogs with firsthand experience to create Project Paws Alive; a nationwide non-profit organization that provides protective equipment to law enforcement, fire, search & rescue, and military K9 Units throughout the United States.  
What prompted this initiative according to the company was a gap in the need for this life changing protective vest coupled with several law enforcement K9 deaths in one year that could have been prevented if the K9s had been wearing protective ballistic vests on duty.  
The company conducted extensive research and found that almost all first responders do not have the funds or budget approvals to afford such expensive equipment. In many instances agencies are prohibited from spending budget funds to purchase equipment that is "not for use by humans". 
 The organization focuses on vest that are specifically designed so the K-9 can wear it for an extended period of time without fatigue or any restriction in movement, with features such as quick and easy to don & doff interchangeable ballistic panel, extremely lightweight and ergonomic buoyant harness and armor outlast thermal management systems™ fabric to regulate body temperature and provide much needed protection. Because of the dangerous and unpredictable nature of their job, it is essential that the K9 officers are protected for the entire duration of their shift. That's why donation of the LOF Defense K9 Streetfighter vest is necessary. This vest is specifically designed so the K-9 can wear it for an extended period of time without fatigue or any restriction in movement.  
With one vest at a time the lives of these precious K-9 can be protected which in turn will provide help or even save the life of a human.